Karma Feels Sick. I'm going through exactly what my character Bear went through in my book Bear Feels Sick. I'm just now getting to the point where I can think long enough to write something moderately coherent (or not). Since I love writing in rhyme I ask you,
What rhymes with flu?
Goo: As in, there is goo collecting in a pool in my lower lungs.
Boo: As in, boo-hoo, woe is me, I'm sick, shivering, and moping on the couch. My Jack Russell Terrier is the only creature in the house NOT annoyed by my whining.  The cat, however, thinks I'm a total wuss.
Shoe: As in, I'm going to throw a shoe at the next person who asks me where something is just as I finally fall into a feverish slumber.
Clue: As in, dear children, get a clue, I'm not cooking…period.
102: As in, my fever climbs to 102° as soon as the Tylenol wears off.
New: As in, I can't wait until I'm feeling like new.
You: As in, I hope you don't get this god-awful flu!
Stay healthy dear readers!
Signing off to drink some broth and herb tea….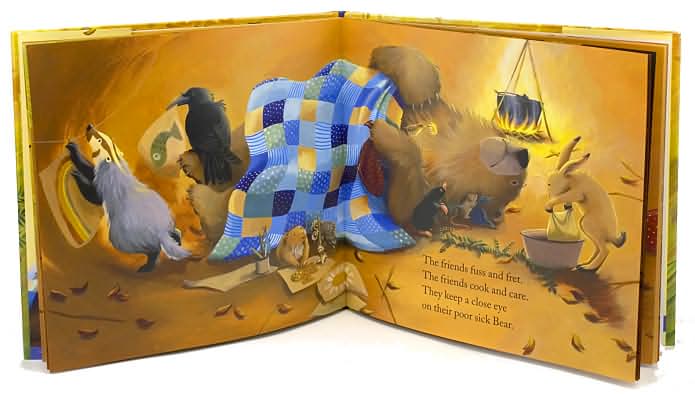 My character Bear feeling sick like me.
Karma