Giveaway #3 will be on Halloween Eve. I'll be giving away two copies of a special book.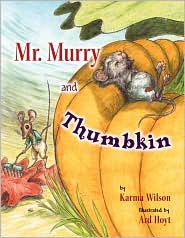 Mr. Murry & Thumbkin is one of my few titles that has gone out of print.
I always loved the story and the art by Ard Hoyt is tremendous. I don't know why it went out of print, but in my opinion it is an adorable book especially suited for the fall season. I have a few  left (I lost them for awhile–and found them recently under my desk).  I'm going to give away two signed copies.  I'm not sure exactly what the rules will be yet.  If anybody has any ideas for something fun, let me know!
Karma